Testimonials
Here is what our tree removal and tree trimming customers have to say about us:
I have used your service three (3) times for tree trimming, treating an Oak tree for disease and for supplying landscaping mulch. In all cases, I was very pleased with the timing of service, expertise & knowledge and overall excellent work performed. I would highly recommend Pioneer Tree & Landscape, Inc. in the future.
Roger L
Thank you for doing such a nice job. Will definitely recommend you to others in need of your services.
Valerie (Elk River)
We are very pleased with your work. Thank you for being so helpful!
Shirley (Blaine)
Thank you very much for the quick and excellent service. We have recommended you to our neighbors.
Leonard and Kateri (Crystal)
Thanks so much. You guys did great work!
Rice (Falcon Heights)
Thank You!
My trees look great! You did a good job cleaning up.
Bonnie H. (Milaca, MN)
Thanks a million - everything looks great!
Jim S. (Bloomington)
Pioneer did an excellent job, the people were excellent and professional. They were amazing and they didn't even have to speak to one another to know what they had to do, they were that much in sync!
Laurel (Anoka)
We really appreciate the great job you did for our trees! We have already recommended your company to others. Thank you!
The Reines
Hello John and crew! Just wanted to send a note of thanks for a job well done. It was a pleasure having you and work on our tree cutting project, The crew was friendly, efficient and fast! We were very impressed with the whole process. Thanks again, we will recommend Pioneer to friends and family!
Diane (Fridley)
Happy customer
Thank you again! It sure looks a lot better!
Bill (Dayton)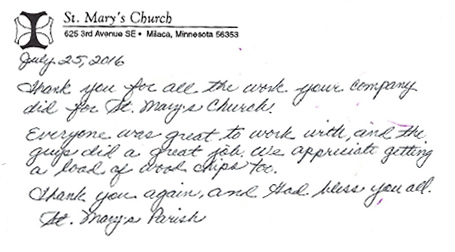 Thank you so very much for your help and the wonderful service. I would recommend you to everyone!
Kathryn (Brooklyn Center)
Good job trimming and clean-up. Thank you!
Clare (New Hope)
The trees look good! Thank you!
Kristy (New Hope)
Nice job. I'm very pleased.
Loretta (Coon Rapids)
Request Free Estimate
Do you have a question for Pioneer Tree Service? Would you like to request an estimate for our tree services? Please fill out the form below and someone will get back to you as soon as possible.