Testimonials
Here is what our customers have to say about us:
John and Zach and The Crew removed several trees from my Brooklyn Center lot, including many 40-footers. They also trimmed my Walnut and Maple trees. The Crew showed up when they said they would, were professional and courteous, removed a fence section and replaced it when finished, and the cleanup was phenomenal. The very fair and competitive price quoted was the price I paid, no surprises. It was a pleasure dealing with such knowledgeable, conscientious, customer service oriented people. And so fun to watch them work! A well-oiled machine. I can't wait to have them back to replant my yard. Keep it up, guys, you rock!
Karen G. (Brooklyn Center, MN)
I wanted to let you know that I was very pleased with the job your crew did. The trees look so much better and they did a great job of removal. I am very happy I chose to go with Pioneer Tree Service!
Thank you,
Barb (Milaca, MN)
Thank you so much John... I needed tree trimming with limbs reaching and scrubbing along side my house. I have never seen a crew of such professional men work as hard as they did and do such precise work and clean up like they did. You clearly are the trusted tree source in The local Minneapolis metro area. A lot of my neighbors now want their's done. You knew every tree and shrub on my property and just what to do. 10/10. Will call you every time. You are the MN tree go to.
Todd (Blaine, MN)
I have used your service three (3) times for tree trimming, treating an Oak tree for disease and for supplying landscaping mulch. In all cases, I was very pleased with the timing of service, expertise & knowledge and overall excellent work performed. I would highly recommend Pioneer Tree & Landscape, Inc. in the future.
Roger (Coon Rapids)
Your crew just cut down a big dead tree in our yard today. We have never seen a crew work so hard and diligently as they did. It seemed as though each one had a job to do and knew exactly when to do it! They all were experts!! We are totally in awe as to how quick they did it and the clean up was astounding!! Thank you so much for a job well done. If anyone else needs any trees down we will DEFINITELY give them your name. Thanks again Zach and the rest of the crew!!
Mike & Carol (Big Lake, MN)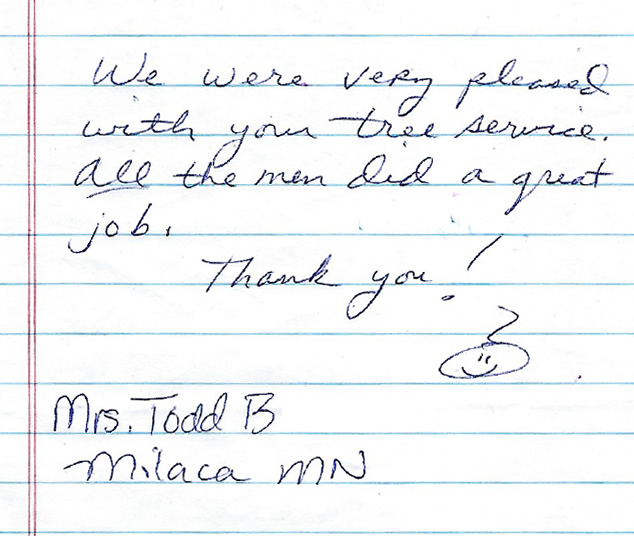 Dear Sir,
We want to thank you for the great job you did. We thought we'd come home to a tree just down & a big mess. You folks cut it up & put it off to the side. We are so grateful, thank you! Your name & number is oging to be taped to the inside of our cabin door. So if we need tree service again we know who to call & we won't be taken advantage of again. It's good to know we still have some honest, hardworking people left in this crazy world. Keep up the great work, we need more people like you.
Sincerly,
Ken & Leanne (Cambridge, MN)
Good morning. On Friday March 20th, your people came and worked in my yard (second time). These young men did a very good job. I will speak well of them to all who ask. Thank you.
John (Poshek W. in Maple Grove)
John and his crew did a fabulous job taking down two trees that had fallen into other trees. They are a very hard working team. The crew also trimmed trees near my house. The work was done with precision and at a fair price. I will recommend Pioneer to anyone who needs tree removal or tree care. Great job guys!!
Brad (Elk River, MN)
Thanks so much for the good tree trimming job and for your prompt services.
Bob and Barb
Great job again! Thanks!
Richard (Fridley)
Today a crew of four friendly hard-working tree professionals took down one very large tree in a confined space. They worked with extreme accuracy to prevent damage to the surrounding structures. All of their equipment was top notch and very well maintained. I would strongly recommend this company to anyone who needs tree work done.
Tony (Isanti, MN)
Wow! Your crew does a great job. Super efficient, friendly and courteous. Very impressed.
Craig and Carolyn
Hello John. Just wanted to send you a note about the work you and your crew did for us. Over the years we have had many different workers in and around our home. You and your crew out-did anything we have ever seen!! Your professionalism and teamwork was a joy to watch. "THE VIKES COULD TAKE A LESSON ON TEAMWORK FROM YOU GUYS." The clearing and cleanup of all the trees was amazing to watch!!! Once again thank you!!
Van and Barb (Princeton)
Thanks for a good job. Your people are hard workers and were courteous and professional. I will certainly recommend your company when other opportunities arise.
Tom (Minneapolis)
The willow tree in our yard looks great! Thank you to you and your crew for doing such a great job and such reasonable prices. I will keep your name for future tree services.
Dean and Renee (Maple Grove)
Thanks! Once again you and your crew did an amazing job. The cleanup was excellent.
Dee & Eugene (Osseo)
Thank you for doing such a nice job. Very efficient!! Very clean yard! I will recommend you to anyone who asks.
Sandy and Jay (Big Lake)
Request Free Estimate
Do you have a question for Pioneer Tree Service? Would you like to request an estimate for our tree services? Please fill out the form below and someone will get back to you as soon as possible.