Tree Pruning Coon Rapids, MN
Many Coon Rapids, MN yards and lots have mature oak and elm trees on them and Pioneer Tree Service is currently working in this area. Pruning & trimming of live limbs/branches of oak and elm trees should only be done in the winter (when these trees are in a dormant state). DO NOT PRUNE in April, May, June and July - you will be running a higher risk of your oaks getting Oak Wilt.
Call Pioneer Tree Service today at 763-238-5254 to schedule an appointment for your Coon Rapids property. You can also request a tree service appointment by filling out the request form to the right.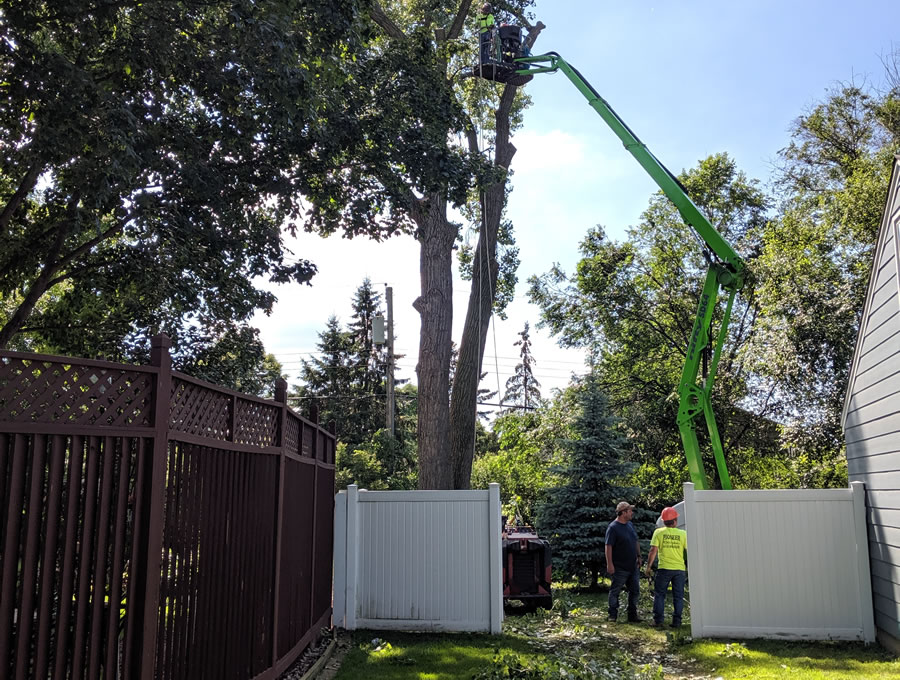 Over 30 Years of Tree Removal Experience
For over 30 years Pioneer Tree Service has offered tree trimming and removal services, insect and disease treatments, storm damage clean-up, tree planting, stump grinding, and more to homes and businesses in Coon Rapids, Anoka, Blaine and the surrounding area.
The Large Tree Removal Experts
The fully trained and insured team at Pioneer Tree Service can remove or prune any tree of any size or location, including large trees located near your home or other buildings. Call Pioneer Tree Service at 763-238-5254 or 320-983-5700 to schedule an appointment today. You can also request a tree service appointment by filling out the request form on this page.
Reviews from Previous Tree Removal Customers
View the reviews that Pioneer Tree Service customers have posted on Google.
We needed some very large trees removed from our property and they were very efficient and organized. We could tell that each employee had years of experience. They also didn't charge us an arm and a leg to get the trees gone, stumps ground, and tops chipped.



5 star review from Google
They were prompt, friendly, professional and worked quickly. We had 4 trees removed and a few more trimmed up...When they were done, they had the mess cleaned up to our satisfaction. When we need any tree service work done again, we will definitely call them again!



5 star review from Google
Blog Categories: Coon Rapids Tree Service, Oak Wilt, Winter Tree Trimming, Pruning
Request Free Estimate
Do you have a question for Pioneer Tree Service? Would you like to request an estimate for our tree services? Please fill out the form below and someone will get back to you as soon as possible.