Tree Planting
Dreaming about the beauty of a new tree or several new trees in your landscape? We offer healthy trees, with delivery and proper planting available, and work to get them off to a good start for you.
Consider, though, these tips before "digging in."
Reasons for Planting: Are you seeking privacy? Increased property value/appeal? Wind Break? Shade? Fall Color? Flowers, fruit, bird habitat?
Location: Plant trees in space to accommodate their growth, both above and below ground. Think about mature size and shape.
Feed/Fertilize: DON'T THE FIRST YEAR.
Water: Give trees a soaking at low pressure regularly. Depend on a soil check, not the calendar on when to water your newly planted trees. Soil that holds together when squeezed doesn't need water. Overwatering causes root suffocation. Frequent light watering (lawn sprinkler) promotes shallow root development and is not enough. Water trees right up to first frost. Trees that have been watered are better able to survive winter. Mulching is good; it reduces frequency of watering and protects roots from heat and cold.
Wrap: Use crepe paper or other wrap on deciduous tree trunks around Thanksgiving and remove around Easter. Do this for 2-3 seasons. This protects young trees from winter scald. Do not leave wrap on over the summer growing season.
Tree Transplanting
If you have questions about tree transplanting, please check with us via phone or email on a project involving transplanting existing trees in your yard.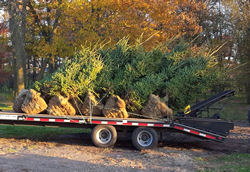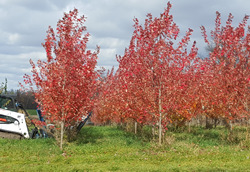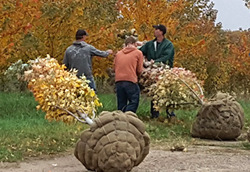 Request Free Estimate
Do you have a question for Pioneer Tree Service? Would you like to request an estimate for our tree services? Please fill out the form below and someone will get back to you as soon as possible.