Zimmerman, MN Tree Removal & Tree Services
Get expert residential and commercial tree removal, tree trimming, disease treatment and tree planting services from Pioneer Tree Service for your Zimmerman, MN home or business.
Pioneer Tree Service has over 30 years of experience in serving Zimmerman and the Sherburne County area. Tree services include:
Tree Trimming & Pruning
Tree Removal - including Large and Hazardous Tree Removal
Storm Cleanup / Removal of Storm Damaged Tree Limbs and Downed Trees
Stump Removal / Stump Grinding
Call 763-238-5254 To Schedule An Appointment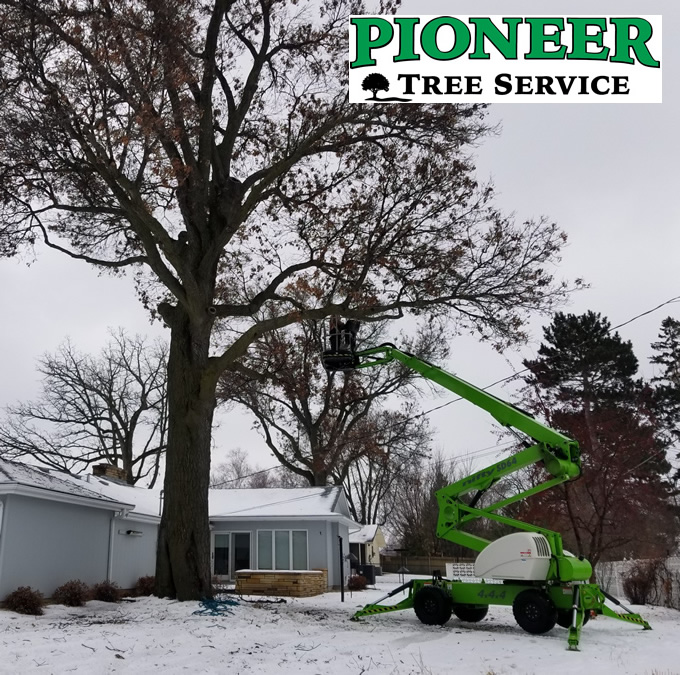 Winter Oak, Elm and Ash Tree Trimming
Pruning a tree during the winter dormancy period is common practice. Benefits of winter tree trimming include:
Reduce the risk of spreading some of the more common diseases affecting trees, such as oak wilt - typically spread by a beetle through fresh wounds in trees. According to the MN DNR, the best time to trim oaks is before April.
Trees are dormant during the Minnesota winter. Because of this dormancy, "wounds" to the tree from trimming will only be exposed for a very short length of time - and in the spring, new growth begins sealing new wounds.
Pruning also improves the health of your trees by removing dead or dying branches that have previously been injured by disease, insects, mites, animals and storms.
The ground around your trees is frozen in the winter. Pruning can be done without compacting the soil around the tree's roots. Any heavy equipment needed to access your trees will have less impact on the soil and landscaping around your yard's trees.
It is safest to trim oak trees during the colder fall and winter months.
The Large Tree Removal Experts
The fully trained and insured team at Pioneer Tree Service can remove or prune any tree of any size or location, including large trees located near your home or other buildings. Call Pioneer Tree Service at 763-238-5254 or 320-983-5700 to schedule an appointment today. You can also request a tree service appointment by filling out the request form on this page.
Blog Categories: Zimmerman, MN Tree Services, Tree Removal, Oak Tree Care
Request Free Estimate
Do you have a question for Pioneer Tree Service? Would you like to request an estimate for our tree services? Please fill out the form below and someone will get back to you as soon as possible.