Contact Pioneer Tree & Landscape Inc.
Call (763) 238-5254 to Request An Appointment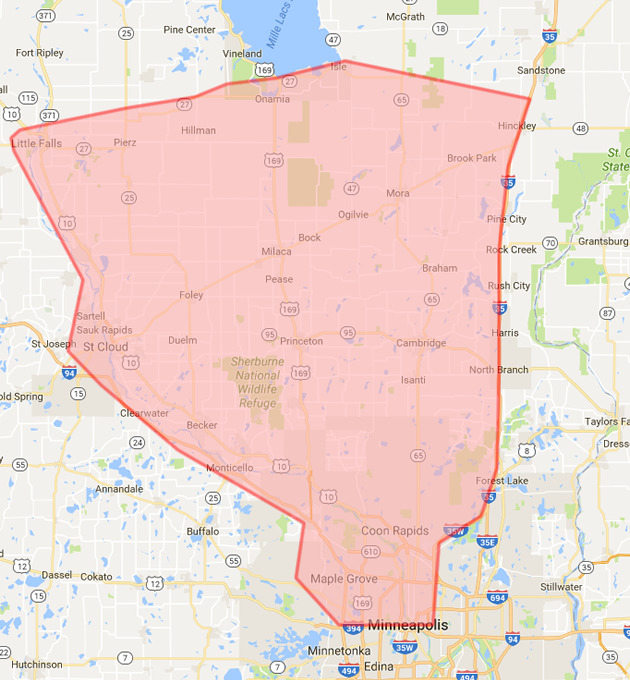 Click to enlarge
Thousands of satisfied customers.
Call 763-238-5254 to check for service in your area.
Contact the Twin Cities' tree removal and tree restoration experts today.
Areas We Service
Serving the Following Counties: Anoka, Benton, Cass, Chisago, Crow Wing, Hennepin, Isanti, Kanabec, Mille Lacs, Morrison, Pine, Ramsey, Sherburne, Stearns, and Wright along with places around and in-between.
Serving the Following Cities: Twin Cities and Central Lakes area of Minnesota including Andover, Anoka, Baxter, Big Lake, Blaine, Brainerd, Brooklyn Center, Bethel, Blaine, Brooklyn Park, Cambridge, Champlin, Clear Lake, Coon Rapids, Cross Lake, Crow Wing, Crystal, Dayton, East Bethel, Edina, Elk River, Foley, Golden Valley, Gull Lake, Ham Lake, Isanti, Lakeshore, Maple Grove, Merrifield, Milaca, Minneapolis, New Hope, Nisswa, North Branch, Oak Grove, Osseo, Otsego, Plymouth, Princeton, Ramsey, Richfield, Robbinsdale, Rogers, St. Anthony, St. Cloud, St. Francis, St. Louis Park, St. Michael, Spring Lake Park, Zimmerman along with places around and in-between.
Helpful Links
www.isa-arbor.com
www.emeraldashborer.info
www.treesaregood.org
www.extension.umn.edu
www.treecareindustry.org
www.dnr.state.mn.us
www.myminnesotawoods.umn.edu

Tree Care Industry Association (TCIA)
The TCIA develops safety and education programs, standards of tree care practice, and management information for arboriculture firms around the world. Learn more on the organization's website.
International Society of Arboriculture (ISA)
The ISA has served the tree care industry for over eighty years as a scientific and educational organization. Learn more on the organization's website.
Request Free Estimate
Do you have a question for Pioneer Tree & Landscape Inc.? Would you like to request an estimate for our tree services? Please fill out the form below and someone will get back to you as soon as possible.