Coon Rapids Winter Tree Trimming
Winter is the proper time to prune trees such as Oak Trees, Ash Trees and Elm Trees. Winter tree pruning will limit the spread of common tree diseases because the wounds creating by pruning will be exposed for a minimal amount of time before the tree starts to heal in the spring.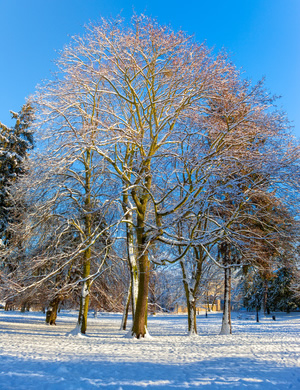 The certified arborists at Pioneer Tree Service are currently taking appointments for winter tree trimming in the Coon Rapids, Blaine, Anoka and Andover area. Winter pruning generally ends around April 1st, so make sure to get your appointment made soon before the winter season ends. Pruning dead or damaged branches now will promote healthy growth of your trees.
The University of Minnesota's web site has great information on pruning large established trees and the pros of pruning these trees during the winter months (see https://www.extension.umn.edu/garden/yard-garden/trees-shrubs/pruning-trees-shrubs/). Michigan State University also recommends "Protecting oaks from wilt disease starts with restricting times trees are pruned to the cold weather season."
Make your appointment today by calling (763) 238-5254 or by filling out the appointment form on this page.
Fully Insured Tree Service
Pioneer Tree Service is fully insured and also provides the following additional tree care services:
Stump Removal / Stump Grinding
Tree Removal
Storm Cleanup / Removal of Storm Damaged Tree Limbs and Downed Trees
Firewood Delivery Still Available
There are still a few months of cold nights left - call (763) 238-5254 to schedule a firewood delivery to your Coon Rapids, Blaine, Anoka or Andover home. 4'x 8'x 16" face cord (residential fireplace cord) for $125 - red oak, split fine.
Blog Categories: Winter Tree Trimming, Certified Arborists, Pruning, Coon Rapids Tree Service
Request Free Estimate
Do you have a question for Pioneer Tree Service? Would you like to request an estimate for our tree services? Please fill out the form below and someone will get back to you as soon as possible.