Elk River Tree Services
Get reliable and professional residential and commercial tree removal and tree trimming, services from Pioneer Tree Service for your Elk River, MN home or business. We expertly handle your trees to ensure they not only look good, but also consider the safety and health of the tree.
Pioneer Tree Service has the experience and equipment for hazardous tree removal - the tree experts and ISA Certified Arborists at Pioneer Tree Service will evaluate the hazard tree (or multiple hazard trees) and implement the safest way to remove them from your property.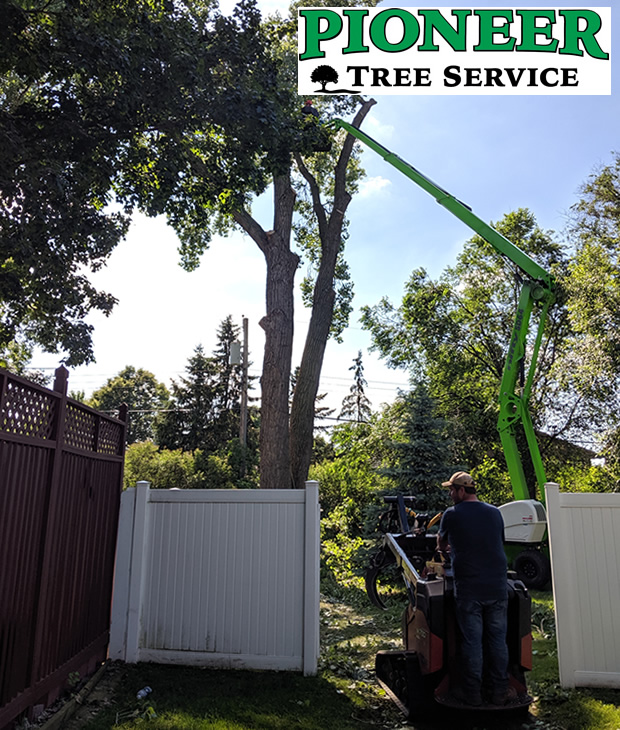 Other benefits of using Pioneer Tree include:
Safety - we put safety first
Experience - 30+ years of experience and the crew works as a team of tree removal professionals
Efficiency - the best in team work plus the equipment to get it done
Attention to Customer - yard-friendly equipment; crew is professional yet neighborly
Local - thousands of happy customers throughout north metro and east central MN
Elk River Large Tree Removal
The fully trained and insured team at Pioneer Tree Service can remove or prune any tree of any size or location, including large trees located near your home or other buildings. Pioneer Tree Service is fully insured and has over 30 years of experience in commercial and residential tree services. Other services:
Tree Removal - including Large and Hazardous Tree Removal
Tree Trimming & Pruning
Storm Cleanup / Removal of Storm Damaged Tree Limbs and Downed Trees
Stump Removal / Stump Grinding
Call 763-238-5254 To Schedule An Appointment
Oak Wilt in Elk River
Do you have questions about the health of your oak, elm or ash trees on your Elk River property? See more information on our Disease / Insect services page. The colder fall and winter months are the time to trim oak trees, and elms and ash as well, to help prevent the spread of oak wilt, dutch elm disease and emerald ash borer.
Call Pioneer Tree Service today at 763-238-5254 to schedule a tree trimming or tree removal appointment for your Elk River, MN property. Or fill out the request form to the right.
Blog Categories: Elk River Tree Service, Tree Removal, Zimmerman, MN Tree Services
Request Free Estimate
Do you have a question for Pioneer Tree Service? Would you like to request an estimate for our tree services? Please fill out the form below and someone will get back to you as soon as possible.