Tree Service Testimonials
Pioneer Tree Service appreciates our tree services & tree removal customers. We have included a recent testimonial from one of our Cambridge, MN customers. See more testimonials from our 30+ years of business providing services to Twin Cities and north metro area home owners and businesses on our testimonials page.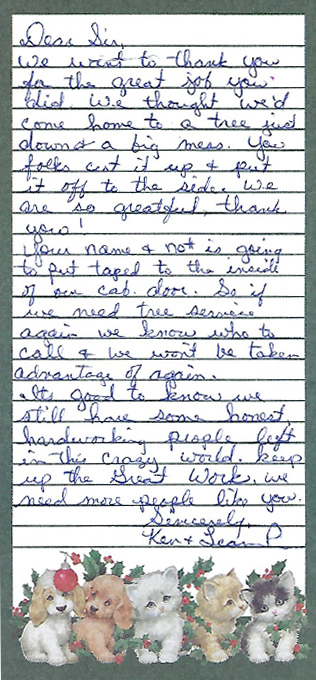 Certified Arborists
Don't be disappointed, hire a professional tree service. Pioneer Tree Service offers tree removal and tree care from a trusted, local company with Certified Arborists. The tree service professionals at Pioneer Tree Service are a dedicated crew, quality workmanship, affordable rates, fully insured, and Certified Arborists. WE also clean up your yard after completing the tree removal or tree pruning project.
Fully Insured Tree Service
Pioneer Tree Service is fully insured and provides the following tree care services:
Stump Removal / Stump Grinding
Tree Removal
Storm Cleanup / Removal of Storm Damaged Tree Limbs and Downed Trees
Treatment of tree diseases, such as Oak Wilt and Emerald Ash Borer
Tree Trimming & Tree Pruning
Blog Categories: Cambridge, MN Tree Removal
Request Free Estimate
Do you have a question for Pioneer Tree Service? Would you like to request an estimate for our tree services? Please fill out the form below and someone will get back to you as soon as possible.