Summer Storm Cleanup and Tree Removal Service
With the heavy spring/summer storms that have happened this week, now is a good time to check the trees in your home or business for tree damage. Pioneer Tree Service can inspect your trees, remove any damaged and dangerous limbs, and provide tree restoration services by our ISA Certified Arborists and MN Certified Tree Inspectors.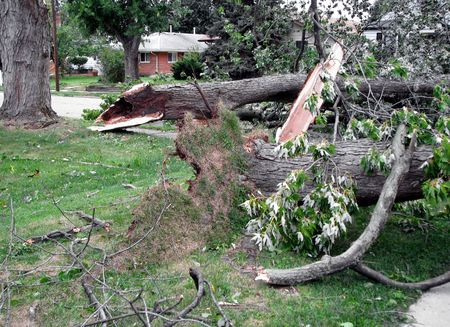 Request a free estimate for tree removal and storm cleanup today! Call 763-238-5254 or fill out the form on this page. No tree is too big!
No tree is too big!
The fully trained and insured team at Pioneer Tree Service can remove any dead or damaged branches, as well as the entire tree, in any location. Call Pioneer Tree Service at 763-238-5254 to schedule a tree removal appointment today. You can also request a tree service appointment by filling out the request form on this page.
Call 763-238-5254 To Schedule An Appointment
Fully Insured Milaca & Princeton Tree Service
Pioneer Tree Service is fully insured professional tree care company that offers tree trimming and removal services, insect and disease treatments, storm damage clean-up, tree planting, stump grinding, and more to homes and businesses in Milaca, Princeton and the surrounding area.
John and his crew did a fabulous job taking down two trees that had fallen into other trees. They are a very hard working team. The crew also trimmed trees near my house. The work was done with precision and at a fair price. I will recommend Pioneer to anyone who needs tree removal or tree care. Great job guys!!
Brad (Elk River, MN)
Certified Arborists
The staff at Pioneer Tree Services includes Certified Arborists with the International Society of Arboriculture (ISA), MN Certified Tree Inspectors and MN Certified Pesticide Applicators. With offices in Princeton and Milaca, Pioneer Tree Service prides itself on friendly service from a company who has 30 years of experience in serving the Twin Cities metro area.
Pioneer Tree Service has over 30 years of experience in commercial and residential tree services. Tree services for Milaca and Princeton residents include:
Stump Removal / Stump Grinding
Tree Removal
Tree Trimming & Pruning
Storm Cleanup / Removal of Storm Damaged Tree Limbs and Downed Trees
Blog Categories: Milaca, MN Tree Services, Storm Damage, Certified Arborists
Request Free Estimate
Do you have a question for Pioneer Tree Service? Would you like to request an estimate for our tree services? Please fill out the form below and someone will get back to you as soon as possible.