Tree Removal Services in Bethel, MN
Do you have a large tree or trees in your Bethel, MN yard or business that need to be removed or pruned? Believe it or not, winter will be visiting Minnesota soon - don't wait to get these potential hazards of damaged overhanging tree limbs removed. Pioneer Tree Service provides tree services following the American National Standards Institute standard for tree pruning.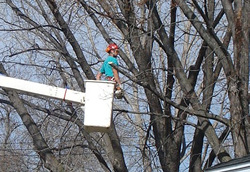 Certified Arborists and Tree Inspectors
With over 30 years of experience and staff that includes Certified Arborists, MN Certified Tree Inspectors and MN Certified Pesticide Applicators, Pioneer Tree Service in Milaca, MN offers the following tree services to Bethel, MN homes and businesses:
No tree is too big!
The fully trained and insured team at Pioneer Tree Service can remove or prune any tree of any size or location. Call Pioneer Tree Service at 763-238-5254 to schedule an appointment today. You can also request a tree service appointment by filling out the request form on this.
Trust Minnesota's Tree Pruning Experts
Other benefits of using Pioneer Tree include:
Safety - we put safety first
Experience - 30+ yrs experience and the Pioneer Tree crew works as a team
Local - thousands of happy customers throughout north metro and east central MN
Efficiency - the best in team work plus the equipment to get it done
Attention to Customer - yard-friendly equipment; crew is professional yet neighborly
I would recommend this tree removal service to everyone. I have never seen such an organized, efficient team! From start to finish professional, organized teamwork from removal to cleanup, and reasonable fee. Very happy with job done!!



5 star review from Google
Blog Categories: Bethel, MN Tree Services, Certified Arborists, Pruning
Request Free Estimate
Do you have a question for Pioneer Tree Service? Would you like to request an estimate for our tree services? Please fill out the form below and someone will get back to you as soon as possible.