Ramsey, MN Tree Removal Services
Do you have a large tree or trees in your Ramsey, MN yard that need to be removed? Spring storms will be here soon, so do not wait to get these potential hazards removed. Pioneer Tree Service provides tree removal and tree trimming services to home owners and business owners in Ramsey, MN. Our crews are out in the Ramsey area this week, so if you see one of our trucks in your neighborhood, let us know if you need some tree removal or tree trimming done in your yard as well.
With over 30 years of experience serving customers in Ramsey, Pioneer Tree Service offers the following tree services: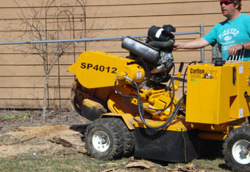 Tree Removal
Tree Pruning
Stump Removal / Stump Grinding
Disease Treatment and Prevention
Storm Cleanup
Call Pioneer Tree Service today at 763-238-5254 to schedule your tree service appointment. You can also request a tree service appointment by filling out the request form to the right.
Experienced Tree Removal Experts for Ramsey, MN
For over 30 years Pioneer Tree Service has offered tree trimming and removal services, insect and disease treatments (including for Oak Wilt), storm damage clean-up, stump grinding, and more to homes and businesses in Ramsey and the surrounding Anoka County area.
No Tree Is Too Big!
Have a large tree close to your house or other building? The fully trained and insured team at Pioneer Tree Service can remove or prune any tree of any size or location, with the proper equipment to ensure that the tree removal is done safely. Call Pioneer Tree Service at 763-238-5254 or 320-983-5700 to schedule an appointment today. You can also request a tree service appointment by filling out the request form on this page.
Reviews from Previous Tree Removal Customers
View the reviews that Pioneer Tree Service customers have posted on Google.
They did a great job removing several trees and cleaning up the yard. I don't write many reviews, but wanted to give a strong recommendation if anyone is looking for tree services.



5 star review from Google
Family owned company with outstanding customer service and more than fair pricing. Would highly recommended to anyone that needs any type of tree service done residential or business.



5 star review from Google
Blog Categories: Ramsey, MN Tree Removal, Tree Removal
Request Free Estimate
Do you have a question for Pioneer Tree Service? Would you like to request an estimate for our tree services? Please fill out the form below and someone will get back to you as soon as possible.