Is It Spring Yet?
Hard to believe it is April 14th, and here is a picture of this late April snow storm in the Twin Cities! Will the snow ever end this year? Even with this elongated winter, Pioneer Tree Service crews are out removing trees and providing other tree services to customers throughout the northern Twin Cities, including Anoka, Blaine, Maple Grove, Cambridge and all points in between.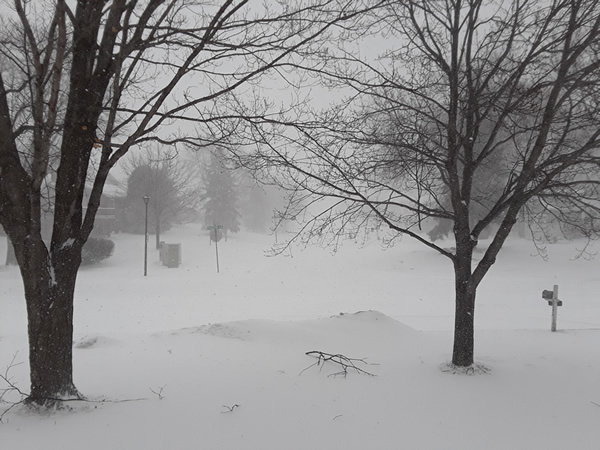 After this weekend's snow and ice storm, some trees will be damaged. If you need to have tree limbs removed or downed trees cleaned out of your yard or place of business, call Pioneer Tree Service at (763) 238-5254.
Certified Arborists
Our experienced, certified arborists will make sure that your trees damaged by this weekend's storm are trimmed & pruned correctly so that your trees' health is not adversely affected. We will do the required work to restore trees damaged by storms - trees damaged by heavy snows and ice and high winds typically will require restoration pruning to ensure that the tree remains healthy. Call us at (763) 238-5254 to setup an appointment today.
Fully Insured Twin Cities Tree Services
Pioneer Tree Service is fully insured and provides the following tree care services:
Storm Cleanup / Removal of Storm Damaged Tree Limbs and Downed Trees
Stump Removal & Grinding
Tree Removal
Treatment of tree diseases, such as Oak Wilt and Emerald Ash Borer
Tree Trimming & Tree Pruning
Blog Categories: Storm Damage, Certified Arborists
Request Free Estimate
Do you have a question for Pioneer Tree Service? Would you like to request an estimate for our tree services? Please fill out the form below and someone will get back to you as soon as possible.