Foley Tree Services & Tree Removal
Spring storm damage to your trees at your Foley, MN yard or business can be taken care of by the Certified Arborists at Pioneer Tree Service Don't wait to get these potential hazards of damaged overhanging tree limbs removed. Pioneer Tree Service provides tree services following the American National Standards Institute standard for tree pruning.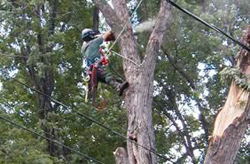 Certified Arborists and Tree Inspectors
With over 30 years of experience and staff that includes Certified Arborists, MN Certified Tree Inspectors and MN Certified Pesticide Applicators, Pioneer Tree Service offers the following tree services:
NEW SERVICE - Hydroseeding
Disease Treatment and Prevention
Tree Removal
Tree Pruning / Trimming
Storm Cleanup
Stump Removal / Stump Grinding
No tree is too big!
The fully trained and insured team at Pioneer Tree Service can remove or prune any tree of any size or location. Call Pioneer Tree Service at 763-238-5254 to schedule an appointment today. You can also request a tree service appointment by filling out the tree service request form on this page.
Blog Categories: Stump Removal, Foley, MN Tree Services
Request Free Estimate
Do you have a question for Pioneer Tree Service? Would you like to request an estimate for our tree services? Please fill out the form below and someone will get back to you as soon as possible.