Tree Removal for Nowthen, MN
Pioneer Tree Service has been removing trees safely and efficiently for over 30 years. Many hazard tree removals are complex. Our experienced professionals can work with you to safely and efficiently remove (or prune) your tree. A hazardous tree with damaged limbs or rotting trunk is a liability. If a free estimate site visit to your property uncovers a potential issue (hazard) - perhaps the tree is damaged or diseased beyond repair - tree removal or possibly just tree limb or limbs removal, may be required.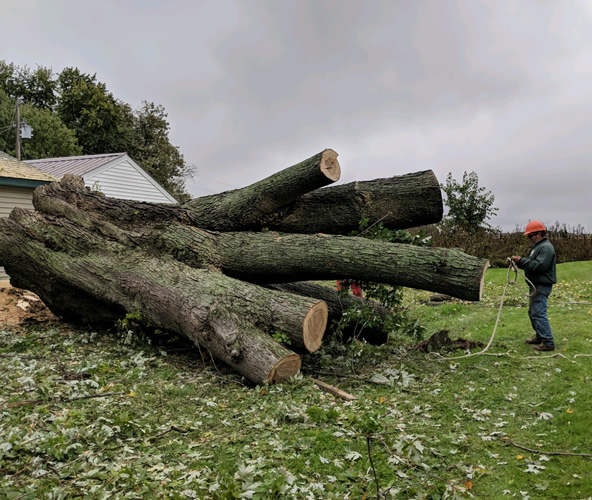 Large Tree Removal Experts
Our motto at Pioneer Tree Service is "No Tree is Too Big". We have the experience and equipment to successfully and safely remove large trees on any property. Pioneer Tree Service will evaluate the hazard tree (or multiple hazard trees) and implement the safest way to remove them from your property. Hazard trees are often at a high risk of falling down, having often been damaged and injured in storms, or these are older trees that may be near the end of their life. Pioneer Tree Service uses equipment such as an aerial lift and bucket to ensure that the tree is removed without damaging any nearby buildings, landscaped areas of your yard, and minimizing the damage to your lawn.
Questions on Tree Diseases?
There is a lot of information going around about Emerald Ash Borer, Oak Wilt, and even Dutch Elm Disease. In some cases, trees infected with these diseases can be treated and saved - early detection and treatment is the key! With Certified Arborists on staff, Pioneer Tree Service can evaluate the health of your trees and determine if treatment is possible.
With over forty 5 Star reviews on Google, Pioneer Tree Service is the trusted tree removal service throughout Anoka County. Call 763-238-5254 today to schedule an appointment. Below are some of the 5 star reviews for our tree removal customers near Nowthen, MN.
Called this morning, came to our house, gave estimate. Within a hour and half the trees were down, yard cleaned up. Great Job, Very Happy. Thank You.



5 star review from Google
Family owned company with outstanding customer service and more then fair pricing. Would highly recommended to anyone that needs any type of tree service done residential or business.



5 star review from Google
Schedule your tree trimming appointment for your Nowthen, St. Francis or Zimmerman location today by calling (763) 238-5254 or by filling out the appointment form on this page.
Blog Categories: Winter Tree Trimming, Tree Removal
Request Free Estimate
Do you have a question for Pioneer Tree Service? Would you like to request an estimate for our tree services? Please fill out the form below and someone will get back to you as soon as possible.