When Is It Safe To Trim Oak Trees?
It is safest to trim oak trees during the colder fall and winter months.
Oak trees are sensitive to trimming during the warmer months of the year, and trimming your oak trees during the summer can unnecessarily put your oak trees at risk for disease.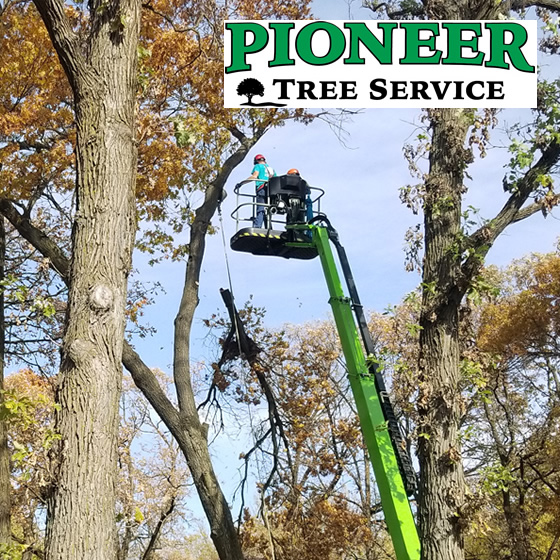 At Pioneer Tree Service we are now scheduling Oak tree trimming (starting in mid-October) and throughout the winter months. Oak trees should be trimmed during the winter months, ideally December through March, to avoid the spread of Oak Wilt. If an Oak tree needs to be pruned during the growing season, the pruning cuts should be painted with pruning paint.
Certified Arborists
Our professional tree services staff includes Certified Arborists with the International Society of Arboriculture (ISA), MN Certified Tree Inspectors and MN Certified Pesticide Applicators. Pioneer Tree Service prides itself on friendly service from a company who has 30 years of experience in serving the Twin Cities metro area.
Our Certified Tree Inspectors and staff Arborists are able to assess trees during their dormant states based on bark color, dried or shriveled buds, or buds/bark missing because of long term deadwood. Trimming during the cooler Fall and Winter months, the dormant season, minimizes the amount of energy that is taken from the tree and lessens the impact branch removal has on tree health.
Oak Wilt
Oak wilt is less likely to spread in the winter month, so have your oak trees trimmed at this time of the year will not expose your oak trees to oak wilt being transmitted through the fresh cuts in the tree. Waiting until after the first hard frost of the fall can help to minimize the risk of disease spreading to your oak trees.
Call 763-238-5254 To Schedule An Appointment
Trimming (pruning) is an important service for trees of all ages and is recommended every 2-5 years.
Other Services from Pioneer Tree Service
With over 30 years of experience serving customers in and around Anoka County, Pioneer Tree Service offers the following tree services:
Tree Removal
Stump Removal / Stump Grinding
Disease Treatment and Prevention
Storm Cleanup
The Best Time to Prune Oak Trees is the Winter Months
If you have oak trees with dead or damaged limbs that you would like to have removed or trimmed, please call Pioneer Tree Service at (763) 238-5254 to setup an appointment. The areas around Anoka, Blaine, Coon Rapids, Zimmerman and Princeton have a large amount of oak tress and now is the time to setup an appointment for your oak tree to be pruned to maintain health.
I would recommend this tree removal service to everyone. I have never seen such an organized, efficient team! From start to finish professional, organized teamwork from removal to cleanup, and reasonable fee. Very happy with job done!!



5 star review from Google
Blog Categories: Oak Tree Care, Anoka Tree Service, Pruning, Winter Tree Trimming
Request Free Estimate
Do you have a question for Pioneer Tree Service? Would you like to request an estimate for our tree services? Please fill out the form below and someone will get back to you as soon as possible.