Need to Have a Tree Removed in Foley, MN?
Do you need to have a some trees removed on your Foley, MN home or commercial property? Are there tree stumps that need to be removed? No tree is too big! As a certified, MN state registered, fully trained and insured team, we serve a wide area including the area around Foley. Call Pioneer Tree Service at 763-238-5254 to schedule an appointment today. You can also request a tree service appointment by filling out the tree appointment request form on this page.
Fully Insured Foley Tree Service
Pioneer Tree Service is fully insured, full service professional tree care company that offers quality tree trimming and removal services, insect and disease treatments, storm damage clean-up, tree planting, stump grinding. Pioneer Tree Service has over 30 years of experience in commercial and residential tree services.
Pioneer Tree Service offers the following tree services: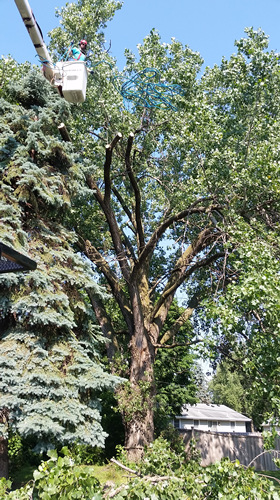 Tree Removal
Storm Cleanup
Stump Grinding & Removal
Tree Pruning
Disease Treatment and Prevention
Concerned About the Health of Your Oak Trees?
Oak wilt is most commonly spread from diseased to healthy trees either below-ground via connected roots or above-ground by insects (sap beetles). Transmission by the beetles occurs during April through mid-July. These beetles are attracted to fresh, wood-penetrating wounds in oak trees, therefore it is important to avoiding wounding or cutting healthy oaks, particularly during spring and early summer. If damage does occur to an oak on your property during the spring or summer months, it is important to immediately treat the cut/damaged surface with water-based paint, a pruning/wound sealer, or shellac.
Preventing the spread of oak wilt from an infected tree to a nearby healthy oak tree via connected roots is usually accomplished through root plowing, where the connected roots between diseased and healthy oaks are cut with a vibrating plow. The diseased oak tree (or trees) then have to be cut down and removed from the property.
To setup an appointment, please call 763-238-5254 or fill out the contact form on this web page.
Blog Categories: Foley, MN Tree Services, Stump Removal, Oak Wilt
Request Free Estimate
Do you have a question for Pioneer Tree Service? Would you like to request an estimate for our tree services? Please fill out the form below and someone will get back to you as soon as possible.